The robot platforms formed the foundation on which to build your robot. There are a few categories of robots and your robot platform needs to support it. Example of categories of robots falls under Land (eg. Land wheeled, tracked, legged robots), Air (eg. aerial planes, helicopters, and blimp) and Water (eg. Aquatic boats, submarines, and swimming robots). Below is a list of our highest-rated land robot platforms that will help you in this.
KOOKYE Robot Tank Car Kit Tank Chassis Platform Metal Stainless Steel 2DW Motor 9V for Arduino / Raspberry Pi DIY (Silver Tank Chassis)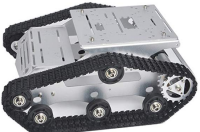 This is one of the best sellers on Amazon with many good reviews.
Pros:
Designed for learning robotics electronic car with arduino or raspberry pi programming. You can add robotic arm or robotics HD Camera on this robotic car platform for DIY.
.

The robotic tank car chassis contain extra-large size stainless steel car body and a variety of subplates for DIY. With 1 pairs drving wheels and 5 pairs carrying wheels, it make walk more easily on complex ground conditions.
.


Comes with a step-by-step tutorials/sample codes which evolves from a simple car with basic movements to a multi-functional robotic car controlled by mobile APP.
Cons:
Y

ou have to buy the chassis, batteries for the kit

.
Verdict:
This is suitable for more intermediate to advanced users.
Moebius Metal Mecanum Omni Wheel Robot Car Kit with 4pcs DC 12V Speed Encoder Motor, 4WD Robot Platform Chassis Maximum Load 15KG for Arduino/ Raspberry Pi DIY STEM Educational Competition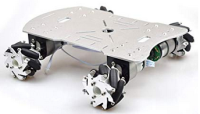 This is another best seller on Amazon for the land robot platform.
Pros:
It works perfectly with easy accessibility to coding and wonderful constant assistance by Moebius Tech.
.

Very good product for robotic development, wheels and chassis fit together perfectly and is easy to assemble
Cons:
There are two listings for this same item.  Don't get confused and order the wrong one.  One comes with speed encoders on the motors (which is what I am recommending here).  The other one doesn't include the speed encoders on the motors.
Verdict:
Recommend for robotic enthusiasts!
Tracked Robot Smart Car Platform with Damping Effect System Metal Tank Chassis with Powerful Dual DC 9V Motor for Arduino Raspberry Pi DIY Kit STEM Education, Easy Assembly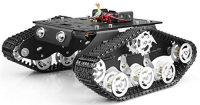 This solid robot platform comes with Damping Effect System which is not widely seen on other platforms.
Pros:
Great shock absorber spring achieve damping effect. Widely suit for road surface.
.
Offer outstanding appearance, higher durability and stability
.
It has smooth flexibility allowing it to go forward, go backward, turn left, turn right, turn around easily.
.
Easy to assembled by yourself and easy to learn Arduino Raspberry Pi.
Cons:
The frame overall is quite good, but instructions are not at all clear. Expect about an hour of assembly time and DEFINITELY download the PDF manual as the printed copy that came with it was very low resolution and not complete.
Verdict:
Aside from the unclear instruction which can be fixed easily, this is a fun build.  Get it today.
MOUNTAIN_ARK High Power 4WD Smart Car Chassis Kit – Iron Chassis + 4pcs DC 12V Motors + Non Inflatable Rubber tire for Arduino Raspberry Pi DIY Obstacle Avoidance Smart Car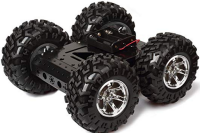 This robot platform has high power and has displayed outstanding performance in obstacles crossing.

Pros:
This 4WD Robot Smart Car Chassis Kit is high power and make obstacle crossing a fun move to try.
.
With its non inflatable rubber tire that is -damping and antiskid, this can be widely applied in wide range of surface.
.

It's smooth outstanding finishes has a higher durability and stability factor built into it.
.

Takes 15 to 30mins to finish installation, very fast.

Cons:
To fully use this robot platform, knowing Raspberry Pi would be needed.  Not a major issue as this is commonly used.



Verdict:
This is a fun and great robot platform to build your robot on.  Get it today.
Application: www.osoyoo.com/?p=16259 Dimensions: 73x45x25mm Features: L298N Dual H Bridge IC 5V Linear Regulator Voltage Regulator IC Power Output: 5V…
Features: Radio frequency is 433MHZ,ISM, the Tx power is 10DB and the RX sensitivity is -98DB. The RF…
23 Thread Spline & M3 thread & 3 clamp system to adjustable.Suitable for JR Servo Motor. SpecificationsSingle Steering ArmMaterial:…