There are so many App-Controlled robots around that it can be tough to choose the best one for the child in your life. Robotic toys can be automated or programmed – some even have built-in artificial intelligence – and in most cases they give kids the opportunity to develop planning skills or interact with a virtual companion. We've rounded up the very best options for a range of budgets and ages.
Wonder Workshop Dash – Coding Robot for Kids 6+ – Voice Activated – Navigates Objects – 5 Free Programming STEM Apps – Creating Confident Digital Citizens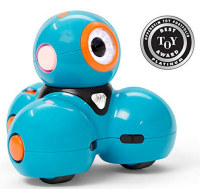 This robotics toy has been winning awards since 2016.  One of the notable one is "Best Toy Award from Oppenneim Toy Portfolio".  Kids 6 years and up will have no problem learning how to use this responsive robot thanks to a very intuitive companion app.
Pros:
Uses Blockly drag-and-drop coding app to program moves and behaviors. Easy to connect to app; responds quickly to commands. High-quality, sturdy robot that holds up to frequent use.
Cons:
Initial firmware update can be glitchy, and can only be done through a Bluetooth connection to the robot. Some device compatibility issues.
Verdict:
With its multiple features, this is definitely among the best. Do get it today.
4M 4153 Kidz Labs Tin Can Robot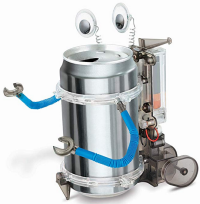 Tiny bolts and screws make this challenging to put together, but for its budget-friendly price, kids can build a fun and functional robot.
Pros:
Not too challenging for kids within the 7 to 13 age range to put together. Any soda can may be used for the robot "body." Motor runs reliably without breaking down.
Cons:
Screws are very small and parents may need to help with this part of assembly. Instructions miss some key assembly points, and some will need to find YouTube videos of the build process.
Verdict:
Your kid will absolutely loved this tin can robot! Get it today.

Vector Robot by Anki, A Home Robot Who Hangs Out & Helps Out, With Amazon Alexa Built-In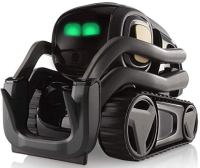 Anki Vector is a newer sibling to the cute Anki Cozmo which is an adorable little bot that provides a great gateway to coding, the Vector is less of a toy and more like a cross between a pet and a virtual assistant.  Vector is considerably larger than Cozmo, and doesn't require a smartphone app (other than for the initial setup). Instead, all the processing happens within the robot itself, which connects directly to your home Wi-Fi network.
In action, it has real personality (thanks to an animation expert from Dreamworks) and is capable of learning faces and playing games. Four near-field microphones enable it to respond to voice commands, and an imminent software update will make it compatible with Amazon Alexa.
Pros:
No mobile app required. Powerful built-in processor. Great fun to use!
Cons:
Some features still in development.
Verdict:
A lot can be done with this expressive robot.
Sphero SPRK+ App-Enabled Robot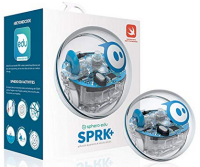 This Robot is fun for all ages.  Its' UI makes it easy to control, and it offers real coding capability for those wanting detailed programming features.
Pros:
Easy to control with companion phone app. Programming moves is also possible. Color-changing feature is easy to program. Water-resistant – can float and move in water.
Cons:
Clear plastic can scratch easily. Works only with Sphero and Lightning Lab apps, not other apps from the manufacturer.
Verdict:
This is a great programmable robot that grows with its owner. Try it out today.
Package Include: 1* robot toy 1* instruction handbook 1* remote control 1* USB cable Charging Time: about 2 hours…
Cobbled from odds and ends in the workshop of a droidsmith, d-o is an impressionable little roller that becomes…
Star Wars inflatable radio control BB-8 real size is an inflatable radio control for kids who want to learn…